How to Increase Blog Traffic: 8 Killer Tactics!
So you have created a blog. Submitted it to major search engines. Put some posts on it. Played around SEO. Now what? Would you just wait for s-o-m-e-o-n-e to come and see your masterpiece and hope that they come back again later!! Sounds horrible right? Relax buddy.
For a blog and a blogger, traffic is everything. No matter how read worthy content your blog has, it's totally a piece of crap if you don't have a group of readers (called traffic) to read it. Sorry to say but it is the truth. But how can you actually drive traffic to your blog? You can't actually send them an invitation card, can you?
So basically what you're gonna learn today is how to increase your blog traffic. It's no rocket science. It's not a 'wow-I-got-result-in-a-day' kinda skim either. These are the steps that you've to deal with all the time – today, as well as tomorrow. And even after getting a decent amount of regular traffic, you have to keep doing it. So without wasting time let's bounce in.
Here are the 8 Fantastic Ways to Increase Blog Traffic like a Pro.
1. Write awesome:
The first rule of blogging is – write awesome stuffs that people would actually like to read. Stuffs that will help them find the right information that they are looking for. The most genuine way to get success in blogging is the ability to create great read-worthy content. If people like it, they'll obviously share it. And hence your traffic will increase. How to create such content, you may ask. The simple formula is – "Read, Read, and Read. Write, Write, Write, and Write."
Another thing you need to keep in mind is that no matter whatever you write, it must be original piece of art. No one has ever made it to the top copying others. Write up yourselves. What you craft, may not sound like a pro, but it's unique at least. No matter how easy it sounds to steal from others and paste it in your blog, you can never stand out in the crowd. Google knows what is fresh and what is stale, and ranks it up likewise. So please, if you wanna increase your blog traffic seriously, do not steal from others.
2. Write Often:
Ask yourself, how often do you write? Once a day? Once a week? Once a month?
One of the biggest mistakes that bloggers make is not caring about the frequency of posting. But believe me, it matters. It freaking matters. Not only search engines, even sites like Alexa slightly measures the posting frequency while ranking blogs. I got slapped in my face previous year by both Alexa and Google because I didn't post even a single word for more than about 2 months (I'm lazy, I admit). My daily traffic came down to almost 500 visitors per day. Even today, this is the only reason I do not make a penny off my blog. I'm too lazy to get out of the bed and actually start typing. I'm trying really hard to get over it. I promise I'll be good, someday…
But also remember that publishing good content once a week is far better than publishing rotten stuff daily. It's good to maintain a good posting frequency but, do not compromise with the quality of content for that.
3. Submit site to Search Engines:
Now that we're good with out contents, it's time to reach people when they need you. Where do you go when you need some information? Obviously to search engine websites (library is an option, but too hard to walk to). So if you want people to come to your blog, it must appear in the search results. And for that you have to submit it to popular search engine sites like Google, Bing etc.
There are many bloggers out there, blogging for years, but mistakenly forgot to submit their site to major search engines. So be sure not to, even in dream, forget submitting your site to Search engines.
4. Do S.E.O: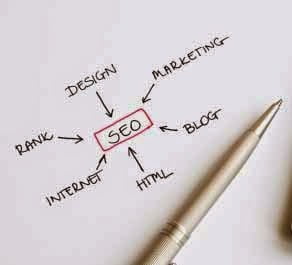 Your job isn't finished up yet. There are thousands if not millions of bloggers out there, writing awesome articles, submitting them to Google. So to get traffic, you've gotta compete with them. Which means you have to rank higher on Google search results page. The higher you rank, the more traffic you get.
But how do you rank up in Google or Bing or any other Search Engines? The answer is Search Engine Optimization or nicknamed as S.E.O. You can't, even with great content rank high on Google or Bing unless you have a properly search engine organized blog (or rather a blog post).
Honestly more than 40% of my total traffic comes from Google. So never ever take this SEO thing lightly. Check out the link below, it elaborates the basics of S.E.O –
5. Promote Like a Pro:
 The second most effective way to get traffic is by promoting your blog. Blog promotion is kind of like advertising. You tell people on other sites that you have a nice blog and they should come up visit your blog. There are many ways to promote your blog. You can do it free or pay for it. Paid promotion is when you pay other sites to tell their users about your blog. If you are stingy like me, never pay for it. Do it my way –
1. Join social sites: There are several social networking websites like Facebook, Twitter, Google+, Pinterest etc. Join there, engage up, follow people and increase your fans or followers. Regularly post updates soon after publishing new content on your blog. Try to grab as many shares as possible. The more times your content is shared online, the more traffic you get. Also don't forget to add social share buttons in your blog posts.
2. Join Reddit: Reddit, as they say, is the frontpage of the internet. All new things around the web are posted here. If your blog has something really awesome that people would love, you can share the link up here. If it's something cool, people will come up to your site to read it. And if people like it, they will vote for it. The link with most votes will hit the site's homepage and if it does, you're rich (rich by traffic, I mean, of course)!
But be cautious about not spamming the site. Reddit is too much strict against spammers. At first try to be a 'mamas-good-kid-doesn't-know-anything' kinda user. Share good links from around the web. Comment on other users' posts. Build the trust. And then mama won't mind if you share a link or two from your blog.
3. Comment on High PR Blogs: Blog commenting is another effective way to promote your blog and increase your blog traffic. To do so, firstly find blogs of your same niche that gives you a link back to your site whenever you comment on their post. Check the Page Rank of that blog and if it's higher than yours, then find a suitable post to comment. Read the post and comment your views on that specific topic. But remember, never ever try to spam any site. It affects your ranking negatively.
And remember, do not fake it. Most of the blog owners hate fake comments. Write only when you actually have something to say or ask about the topic.
4. Join Blogging Communities: There are many blogging communities out there that allows you to freely promote your fresh contents. The main mantra of these sites is – Mutual Promotion. You promote their stuffs, they will promote yours. In this era of self-help, it's not kinda bad deal, what say??
5. Don't Forget the Title: When you promote your blog post anywhere, the title is the only part that a reader can see. So it's pretty obvious that the title has a big job attracting the readers. It should always sound awesome.
6. Get Backlinks:
When you put a link of some other external website in your blog, that link is called a backlink to that website. The same occurs when someone else put your blog's link on their site. And these backlinks are really important for higher ranking of your blog. Most of the major search engines like Google counts number of quality backlinks to determine the ranking of a website. The more backlinks you have, the higher you rank and hence the more traffic you get.
Links or better say, the backlinks are mainly of two types. One, the do follow backlinks and other, the no-follow backlinks. Do follow backlinks are what you need, because the search engines give importance to these type of backlinks only. Though it doesn't mean that the no follow backlinks are useless. For instance, a no follow backlinks from some high PR, high authority site, say Wikipedia, will surely have some positive impact in your search ranking. So never miss an opportunity to build backlinks. But, again, as I said earlier, do not spam.
But how to build the backlinks? Here are some quick ways to build some quality backlinks in order to increase your blog traffic –
1. Comment on blogs. Find high PR blogs that give you a link back to your blog when you comment on their posts.
2. Guest posting. Guest posting is when you write for other blogs as a guest. And in return you're given a do follow backlink to your blog. This process has two positive impacts. Firstly it will increase your rankings and secondly, some readers of that blog may be interested in the link you provided and click on it. Hence, this is a great way to drive additional traffic from other blog.
3. Social Sites: Join several social sites and in the bio section leave your blog's link. Some sites like Facebook, Twitter, Google+ etc. has a pre-placed link field where you can put your site link.
7. Interlink Posts:
Interlinking basically means creating a bridge or connection between all the posts. Suppose you are writing a post about, say, how to tune a guitar. Then in this article you can give a link to another post of your blog about, may be, how to play a guitar. In this way you're self-advertising your content. A reader who is interested in tuning a guitar must be attracted to how to play a guitar. So naturally your traffic is increased.

8. Make a list:
Okay this is a bit out of the box, but mark my words, it works. At first get out of your computer screen. Take out a notebook (a real notebook with white pages in it made of a material called paper). Grab a pen and start noting out stuffs. At first allocate few pages and write about your blog's Alexa rank, backlinks count, domain authority etc. with date. After two days check your rankings and write it down again right below previous day's data.
Make a timetable. Divide weekdays. If you plan to write post on Monday and do promotion etc. stuffs on Tuesday, make it a daily routine and further transform it into daily habit. Now on Monday do not do anything but writing. On Tuesday before starting out with computer, take out that old notebook again, look for a fresh page and write down your plans for today. For example,
1. I'll be finding good blogs and comment on them.
2. I'm gonna socially promote my blog.
3. And do blah blah blah as well…
Otherwise you'll be lost into the fifth dimension — after switching on the pc, you do everything else but what you actually intended to do. It occurs often, doesn't it?
In a Nutshell: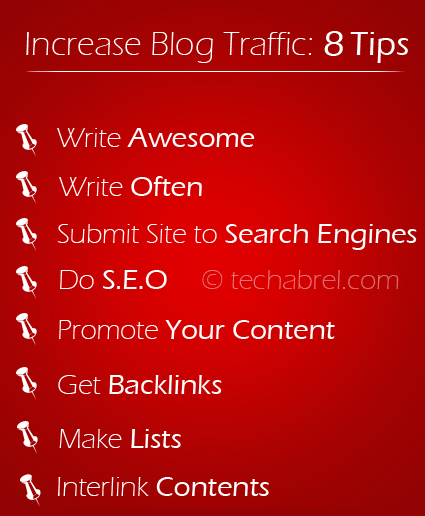 Lastly,
It always takes time to build traffic. At first you'll feel like leaving it. Things won't work out the way you want it to be. But do not give up hope. Believe in yourself and keep blogging. Do not take any shortcuts, because when the talk is about success, there's no shortcut to it.