How To Fix Runtime Error In Windows
How to Fix Runtime Error in Windows: One of the common errors that the windows users may face is the Runtime Error. It's really an annoying thing when you see this error during the execution of any task or program. Fixing a Runtime error is not a big job, you can easily fix this through our tutorial.
In this post, I will show you how to fix runtime error in Windows. But, first take a look what actually Runtime error is and what actually causes this error.
What is a Runtime Error?
A Runtime Error is a problem that prevents other programs to work correctly. It can be a software as well as hardware related issue. It may cause you losing an important file as it can corrupt the file and make it unusable to you. But these type of errors doesn't hamper the operation of Windows or other programs. It will look like as-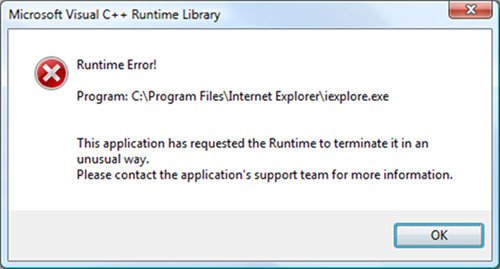 Runtime Errors mainly occurs if you run two incompatible Software programs or if your PC has some memory issues. If there is any malicious software, then also you can face this issue.
How to Fix Runtime Error in Windows?
If you found a Runtime Error on your PC, then follow the steps.
1. First of all install, the latest updates of windows and the specific program that shows runtime error. To update refer this-
1st go to the Start menu and open Windows Update.
Now, type Update in the search box and a list appear. Click on Windows Update.
2. Check Action Center: When an error is encountered by the windows it sends the report to the Action center so that the user can aware of the problem. If there's a solution available for the error, you can get it from the Action center.
First go to the Start menu and then Control Panel>Systems and security.
Click on Review your computer's status.
3. Open Task Manager: When a program shows a runtime error or shows not responding due to the error, then you can close it using the Task Manager. In the process tab, you can sort the list by Username.
To open task manager. press Ctrl+Alt+Delete simultaneously. Runtime errors may occur due to the conflicts of the two programs that aren't compatible, so you can close programs from here, by selecting the program and click on 'End process'.
4. Malicious software also can cause Runtime error on your windows PC. Such software may hamper on the memory of the computer. So, it is a must to always keep updated your Antivirus software.
In the Action Center, you can monitor on the antivirus software whether it is updated or not.
5. One thing you need to follow, before installing any program, make sure that your system has the least amount of RAM installed.
6. If there's a memory related issue behind this problem, then reboot your computer. Rebooting will clean up additional memory and free up spaces. In addition, you can use any registry cleaning software to clean up the registry as well as extra memory. For this purpose, you may use C Cleaner as it can clean registry and free up memory.
Final Words:
Hope, you may now understand what the Runtime Error is and why it occurs, also you know now, how to fix runtime error in windows. In addition, you can use the disk de-fragmentation to unite the fragmented files. It will also helpful to minimize the runtime error issue.